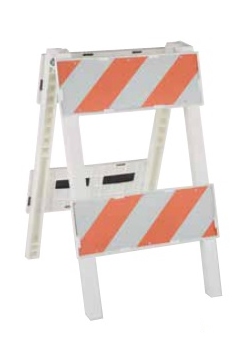 Road barricades, Type 1, Type 2 and Type 3 plastic or steel and wood road barricades for road construction and maintenance.
FOR AN ACCURATE QUOTE, PLEASE CONTACT US WITH THE FOLLOWING DETAILS:
Quantity of each type of barricade
Type of Barricade: Type I, Type II, Type or III
Construction Type:

All Plastic Barricade

or

Wood panels w/ Steel Legs

Flashers: (OPTIONAL)
How many? Red or Amber Lenses, Solar or 6 Volt Battery (These are sold by the case)
Shipping Destination: City, State, Zip
Receiving Details: Any special delivery issues?  Do you have a forklift?