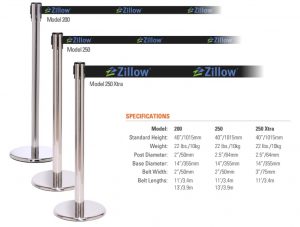 Event management equipment and crowd control equipment for both indoor and outdoor events in small, medium size and large venues from gymnasiums to stadiums.
Municipal Equipment Supply can supply your interior and exterior city venues with the crowd control management equipment you need to host a safe, fun and entertaining event. From cones in the parking lot to pedestrian event barricades to retractable stanchions, we have multiple sources for event management equipment. We will supply you with the proper stanchions and crowd management equipment to match your environment and budget.
FOR AN ACCURATE STANCHION QUOTE, PLEASE CONTACT US WITH THE FOLLOWING DETAILS:
Quantity of each item you need
Use: Will the equipment be used outdoors and subject to in-climate weather or will they be used primarily indoors?
Traffic: Will your equipment be subject to daily or weekly handling and lots of pedestrians? Or is it  lightly handled in a low traffic environment?
Color Choice: Black and Satin hide fingerprints the best. Other choices and polished chrome, polished brass and many powder coated colors.
Conditions: Are your stanchions subject to moisture, salt water or salty air?
Construction Type: Most stanchions are stainless steel tough there are different grades. Stanchions can also be constructed out of plastic, PVC, aluminum and wood.
Shipping Destination: City, State, Zip
Receiving Details: Any special delivery issues?  Do you have a forklift?
PRICE: There are so many price variations due to color, construction type, belt length, destination,etc… You can be assured Municipal Equipment Supply will quote you our best price the first time. We want you as a repeat customer so we make sure your transaction with us goes smooth and is easy on your budget.