Heavy duty chain and posts for municipal buildings and grounds, city and state parks and commercial facilities as well.  Black powder coated aluminum posts and powder coat over thick hot dipped galvanized chain create a professional looking barrier around your sidewalks, parking lots and the perimeter of your property. The polyester powder coating process used offers superior rust and corrosion resistance.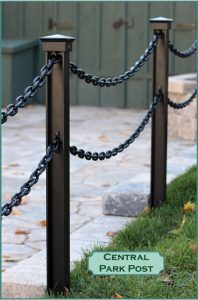 First, two decorative black post styles are available to choose from:
The Boston Garden Post: this decorative post features an acorn style finial (post cap)
The Central Park Post: this decorative post features a low rise pyramid post cap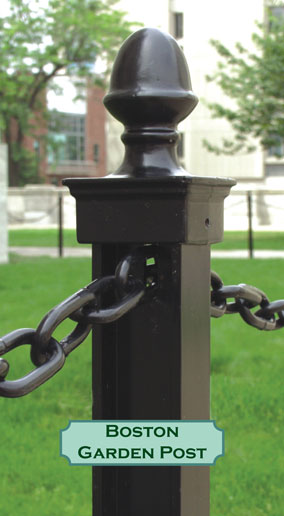 DECORATIVE POST DIMENSIONS
We offer two sizes of posts:
44″H x 2.25″W x 1.75″D
60″H x 2.25″W x 1.75″D
DECORATIVE POST PRICING
44″ POST @ $call for current price + applicable shipping charges such as lift gate service. Includes choice of Boston Garden Post Cap or Central Park Post Cap
60″ POST @ $call for current price + applicable shipping charges such as lift gate service. Includes choice of Boston Garden Post Cap or Central Park Post Cap
Individual or extra post caps are $call for current price each + shipping

Click Here for Chain Options
INSTALLATION TIPS AND INSTRUCTIONS
COMMERCIAL INSTALLATION
We recommend that the distance between the posts be no greater than 6 feet.  Tight radius installations will require the posts to be closer together. Posts should also be installed in the ground to a depth of approximately 50% of the post length and set in concrete at least 6 inches below the frost line to prevent heaving. The concrete column will vary in length depending upon the frost line (research local building codes for frost line depth).
A "D" shackle (#3214) will be required for each start and stop to connect chain to post. Joining links (#3022) are required to link chain to chain. We recommend that joins be situated at a post so it is the joining link that is in the notch on the post. This hides the joined links under the post cap area. After measuring chain length you need, please add 10% more linear length to your total to allow for sag in the chain.
Post and Chain Installation Instructions
WARRANTY INFORMATION FOR LANDSCAPE POST AND CHAIN
If found defective, powder coated posts and post caps are guaranteed against manufacturers defects for the lifetime of the products only for the original purchaser. Product must have been installed and maintained as per instructions supplied with original product.
The black finish on our product is a high quality polyester powder coating. Some dulling of the finish over the years is considered normal. Where steel parts regularly strike other steel parts, the powder coat finish will chip or wear thin. This is to be expected and is not considered a defect.
For warranty claims we request that we are contacted at 800.637.5427. The manufacturer will require photos be emailed to them of the defective product OR that it be returned to them in Michigan. If we deem that failure is due to a defect in the product we will replace it free of charge. Shipping charges will apply.
CONTACT US WITH THE FOLLOWING DETAILS
Quantity of posts you need
Post Height: 44″H or 60″H posts
Post Cap desired: Boston Garden or Central Park
Chain Style and Length: Standard smooth linked black chain or Victorian spiked black chain
Shipping Destination: Complete billing and shipping destination address, is it a residence or business, contact name and number for receiving
Forklift Availability: Do you have a forklift or will you need lift gate service to unload your pallets(s)